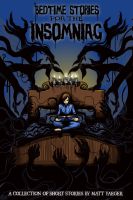 A collection of horror stories that will disturb your sleep, and if you already have trouble sleeping at night then why not have a good reason for it? Inside of this book are stories that range from psychological terror to physical incarnations of horror.
Two boys find an ancient book and test the boundaries of friendship…
Two women compete for superiority in a grisly war at a bordello in Texas…
A Zombie Pub Crawl will end in bloodshed…
And more.
If you're looking for stories about zombies, trolls, amputation, nightmares and more, then this book is for you. These stories can be purchased separately on the Kindle marketplace as well, but cost less when purchased together.
Buy Now @ Amazon & Smashwords
Genre – Horror
Rating – PG13
More details about the author
Connect with Matthew Yaeger via Twitter