Did you know that? The official World Cup 2014 anthem is called 'Dar um Jeito (We Will Find A Way)
And now, my book review for ....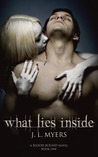 Never has more than 300 pages sailed by smoothly. The main character, Amelia is sweet, endearing, and adorable. I was expecting more blood sucking less romance so I was pleasantly surprised when romance played a larger role in the story.
Marika wasn't my least favourite character of all but then every book and teen's life needs one of her to keep things interesting. What Lies Inside is well written with a thought provoking storyline. It is deceptively simple at heart and I don't want to give away the storyline because it is interesting to read this book with no idea what to expect, because it very quickly picks up speed and you are surprised with how it all ends up for Amelia.
What you can expect is one of the best vampire books I have read over the past twelve months. Do yourself a favor and give it a chance. You will not regret it.
Disclosure - As a Quality Reads UK Book Club member, I received a free copy of this book in exchange for my honest review. I received no monetary compensation for my book review. This book review is based on my thoughts, opinion and understanding of the book. This book review does not reflect the opinion of other book club members.